Property position and type matter too
The media loves a good jingle. And "location, location, location" has been a family favourite for years. Blame it on home reno shows who live and die from high viewer ratings.
The danger in believing it's all about location is missing out on 2 other crucial buying considerations. If you buy a property simply because of its location, you may be in for a bumpy ride.
Let's get this straight: location is important when buying a property. Growth areas are desirable. But it's not everything – you can buy a property in a good location but if the property isn't in the right spot or isn't the right type for the area, it may not turn out to be a good investment.
As Richard Crabb, Managing Director of the ASPIRE Property Advisor Network shares in his LinkedIn article, Rewriting property's golden rule of location:
"We need to stop focussing on just location and start factoring in position and property selection…."Location, position, property selection" isn't as memorably catchy, but you should burn that adage into your brain."
Let's look at position and property selection in more detail, shall we?
Property position
If you buy a house next to a noisy, busy highway or near a refinery, you'll find it hard to rent – or sell. Even if it's in a location that's set to grow. Or its proximity to the city.
Compare that to a property in the same location – in a quiet, leafy street, walking distance to schools, bus stops, and shopping strips.
Which would you rent or buy?
Now that many of us are working from home with the possibility of random lockdowns, lifestyle matters more than usual. So having a home near parks, beaches, or wetlands is also appealing to Aussie families.
Find a property close to:
Transport
Employment hubs
Amenities
Lifestyle facilities
Schools
Position is important. And equally as important is type of property. We'll look at this next.
Property type
You could buy in a location set to thrive – yet still miss out if you buy the wrong property.
Understand the demographics of the area. This will tell you what the households look like in terms of the type of people living there. And the type of places they want to live in.
The Census of Population and Housing (Census) tells us there are around 10 million households in Australia – couples, couples with children, singles,empty-nesters, extended families, and many other variations.
The number of people in the household and their relationships will tell you what type of housing they'll look for.
For instance:
If an area is filled with families with 2.5 kids – you're probably going to be better off with a house that has 3-4 bedrooms, double garage, and a decent backyard rather than a 2 bedroom apartment on the third floor.
If the area is filled with young, unmarried millennials (born in the 80s and 90s), they'll want shared houses, townhomes, or apartments with low maintenance backyards close to the city.
Of course…
There are always exceptions to the rule. For example families may be flexible with their housing preferences to get their kids into school zones. These are the types of things you need to consider when investing.
In a nutshell
Investing in a great property isn't all about "location, location, location". What surrounds the property matters too – tenants and homeowners value lifestyle. And the demographics of the people in the area predict what type of property will be in demand.
Location. Property position. Property type.
These are the 3 considerations every property investor needs to consider before buying.
Find out what else is important – download your free copy of Property Investment: 10 Essential Considerations below.
FREE E-BOOK
Property Investment: 10 Essential Considerations
Many first-time investor – and even experienced investors – often ignore these basics of property investing. Save precious time, stress, and money.
Fill in the form for your free copy today.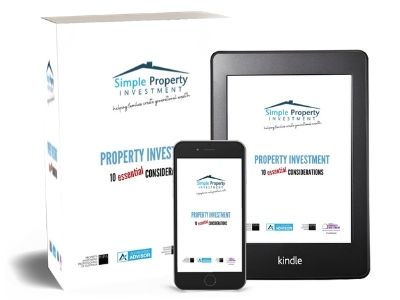 People who read this were also interested in: